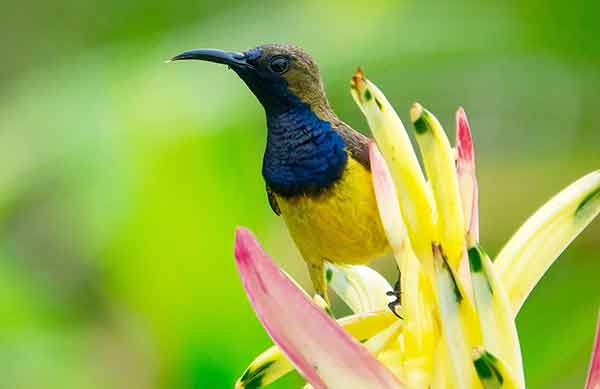 Bird Watching
South Africa offers a range of birding habitats, from grasslands, wetlands and forests, to savannahs, fynbos, the seashore and open oceans. Bird-watching in South Africa allows birders to explore a diverse range of habitats. These habitats offer a spectacular diversity of beautiful birds, from the diminutive, fynbos-restricted Orange-breasted Sunbird to the large, desert-adapted Ludwig's Bustard. A remarkable 841 bird species are found in South Africa, about eight percent of the world's bird species. Seventy-four species are endemic to South Africa, i.e. they do not occur naturally anywhere else in the world.
The Western Cape hosts many endemics species. These endemics include fynbos specials such as Orange-breasted Sunbird, Cape Sugarbird, Cape Siskin and Protea Seedeater. The West Coast National Park attracts large numbers of waders from their arctic breeding grounds during the southern summer months.
The Garden Route has a Mediterranean Maritime climate, with moderately hot summers, and mild to chilly winters. Bird specials include Forest Buzzard, African Crowned Eagle, Knysna Turaco, Emerald Cuckoo, Half-collared Kingfisher, Narina Trogon, Knysna Woodpecker, Chorister Robin-Chat, Knysna Warbler and Olive Bush-Shrike
Further inland, the fynbos-clad mountains give way to the arid expanse of the Karoo. The Karoo semi-desert with its arid landscapes offers many sought-after dry western specials, including Karoo Eremomela, Cinnamon-breasted Warbler, Namaqua Warbler and Karoo Korhaan.
Mpumalanga boasts a huge variety of threatened, endemic and highly sought after species from Blue Swallow, Rudd's and Botha's Lark, Wattled Crane and Southern Bald Ibis to Martial Eagle, Narina Trogon, Bush Blackcap and Orange Ground Thrush; Highlands & Wetlands fish eagle.
The best birding venues provide forest, grassland, wetland, bushveld, mountains, estuarine, coastline and open ocean habitats, making KwaZulu-Natal southern Africa's most diverse area for birding. 63 southern African endemic or near-endemic species are present, making this region a must on any birders' wish list.
The variety of habitat in Southern KwaZulu-Natal contributes to a bird list in excess of 550 species including many rare and endemic species such as Blue Swallow, Cape Parrot, Drakensberg Rockjumper, Eurasian Bittern, all three southern African Crane species and Bearded Vulture
With more than 600 species recorded, the Zululand Birding Route is southern Africa's birding diversity hotspot! A network of 16 self-drive routes offers a range of great birding localities that will thrill the most seasoned birder. For convenience, these are grouped into four regions – North East Zululand (Elephant Coast), North West Zululand, Southern Zululand and North Coast Route (Zulu Root).
Using a community bird guide you will have access to a lot of local knowledge and the haunts of the more unusual birds, thus the chances of seeing specials in an area are certainly much higher.
Included in the Top 4 birding hotspots; The West Coast (more than 9 routes); Kruger National Park; Isimangaliso Wetland Park (Elephant Coast in KwaZulu-Natal); Southern Drakensberg (KwaZulu-Natal)
Many of these hotspots can be enjoyed during a self-drive holiday, let Cape Tours introduce you to the best places to visit.
Let us assist you - Enquire