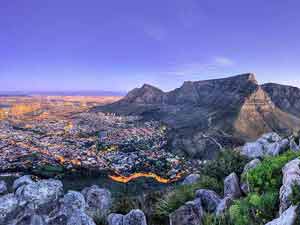 The Cape Holiday Destinations
The Western Cape is the first choice and most visited destination of South Africa for first time visitors. "The fairest Cape in all the circumference of the World"; Sir Francis Drake's description remains as true today.
At its heart lies the Cape Peninsula and the Mother City Cape Town, one of the world's most beautiful cities, in an idyllic setting at the foot of Table Mountain. A visit to Cape Town is much more than a City Break! Cape Point offers rugged cliffs, scenic coastline, baboons and wild ostriches. The wooden walkways of Boulders beach allow you to observe the African penguins in their natural habitat without disturbing them. Kirstenbosch Botanical Gardens is a must for every visitor to Cape Town and is a haven for lovers of nature, flora and fauna.
A string of quaint fishing villages runs along the rugged West Coast, covered in spring by a dazzling carpet of flowers. To the east are the endless miles of white sandy beaches, each with its unique charm. A region celebrated for its unique people and extraordinary places, and where the sun shines 90% of the year. A stay in one of the traditional West Coast fishing villages should be on every visitor wish list.
Inland are the spectacular Winelands, with beautiful manicured vineyards stretching to the horizon. The fertile green valleys of the Cape Winelands are surrounded by spectacular mountain ranges and it is the largest wine producing region in South Africa.
The Whale Coast has the distinction of splitting the oceans. At Cape Agulhas, the southernmost tip of the continent, the waters are cleaved into the Atlantic and Indian Oceans.  Rimmed by these two great oceans, it's a playground for all the inhabitants of the earth and sea, a nursery of the great Southern Right whale and a garden of delight, from its rare floral kingdom, to the fields of grain and orchards of fruit. Walker Bay (Hermanus) offers the best land based whale watching in the world.
The wide-open spaces of the Klein Karoo are full of surprises from charming country towns to breath-taking mountain passes. This is a landscape fashioned almost entirely by water. Gorges follow rivers that cut through towering mountains and passes cross-imposing terrain, leaving one stunned by the visual beauty of nature. Route 62, the longest wine, mountain and fruit route in the world, is the best way to explore this spectacular, and often forgotten region.
The Garden Route, famed worldwide, is an area of outstanding natural beauty, comprising lakes, lagoons, indigenous forests, Edwardian passes, towering mountain ranges and unspoilt coastline. Simply put, with its abundance of closely-protected nature reserves and National Parks, Mother Nature presents visitors with an up-close and personal experience with the best she has to offer!
No visit to South Africa is complete without a wildlife experience! The many Big 5 game reserves in the Eastern Cape offer a natural extension to your holiday of discovery.
Let us assist you - Enquire