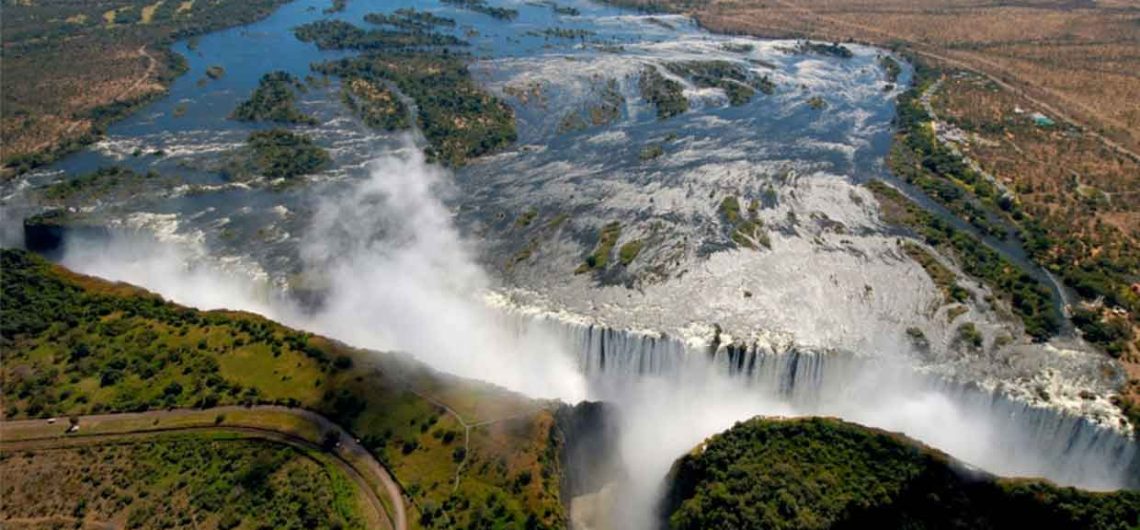 +44 01908 609722
Call our experts
100% Tailor Made
Price Guarantee
ATOL PROTECTED
"Victoria Falls is without doubt one of the most famous holiday landmarks in Africa and one of the most spectacular waterfalls in the world."
Victoria Falls Holiday
When you plan your first visit to Zambia or Zimbabwe – envisage your very first glimpse of the literally breath-taking Victoria Falls. If there were no other reason to visit Zambia and Zimbabwe, the legendary Victoria Falls would be reason enough.
Victoria Falls presents a spectacular sight of awe-inspiring beauty and grandeur on the Zambezi River, forming the border between Zambia and Zimbabwe. Locals referred to the Falls as 'Mosi-oa-Tunya' – 'The Smoke that Thunders'; Victoria Falls is a sight you won't easily forget and that is guaranteed.
You're in the hands of experienced experts; we specialise in bespoke tours to Southern Africa, and we've been around for over 20 years. We are born South Africans and know the areas intimately.
Our sole goal is to ensure your holiday is an unforgettable, seamless experience that meets your budget; leave the planning and coordinating to us.
Don't take our word for it – we maintain a 5-star Google Review rating. (see below) Our clients repeatedly come back for more!
We guarantee lowest price on like-for-like itineraries.
Please contact us for a cost indication.
+44 01908 609722
Call our experts
To help achieve your objectives, we have created several different itineraries to give you an idea as to the opportunities awaiting you in Africa. Of course, there are hundreds of possibilities, so to assist, simply pick up the telephone and tell us what you would like out of your holiday and let our South African born and experienced consultants make your dreams come true!
Additional Info
About three quarters of Victoria Falls lies within Zimbabwe and it has the lion's share of viewpoints too. Victoria Falls is a town in western Zimbabwe and a gateway to the massive waterfall of the same name. Here, the Zambezi River plummets over a cliff and into the Boiling Pot before flowing through a series of gorges. The Devil's Pool, a natural infinity pool, is on the edge of a sheer drop. Spanning the river is 1905 Victoria Falls Bridge.
To get exceptionally close to the cascades of water, however, you need to visit the Zambian side of the Falls. Feel your heart race during the drenching crossing of the Knife-Edge Bridge or, if there's less water, take the steep footpath down to the Boiling Pot – a huge whirlpool at the base of the Falls. You can also stand upstream and watch the river rush over the edge.
Attractions;
• As you are here to visit the Falls, we recommend a guided tour of the Falls
• Make sure you visit the National Park Mosi-oa-Tunya, where you can see many local animals – antelopes, zebras, giraffes and is home to white rhino and elephant
• Historical Bridge Tour
• Day trip to Chobe National Park
Experiences;
• Each full moon the Victoria Falls rainforest re-opens in the evening for special tours to witness the mystical magic of the lunar rainbow – spray and cloud permitting! The Victoria Falls are one of the few places on earth where this natural phenomenon occurs regularly and where it can be witnessed with ease.
• A highlight of any trip is the romantic sundowner cruise above Victoria Falls, viewing crocodiles and hippos wallowing in pools and lying on the banks. You may of course prefer a bird's eye-view of the Falls, by helicopter or microlight
• Adrenaline and action activities include White Water Rafting; High Wire activities; Zambezi Canoeing and much more
• Royal Livingstone Express Dinner run – Fine wining and dining aboard The Royal Livingstone Express as you travel from Livingstone to the Victoria Falls Bridge in Pullman style coaches which have been lovingly restored to their former glory
• One of the most thrilling experiences – not only at the falls but in all of Africa – is the hair-raising journey to Livingstone Island. Here you will bathe in Devil's Pool – nature's ultimate infinity pool, set directly on the edge of the Victoria Falls. You can leap into the pool and then poke your head over the edge to get an extraordinary view of the 100m drop. Here also you'll see the plaque marking the spot where David Livingstone first sighted the falls.
• Time difference is GMT+2 hours
• The water level varies throughout the year; it is at its peak in April, at the end of the rainy season and it is at its lowest level in October and early November
• Interestingly, during the dry season the water level in the Zambezi River drops sharply, and it becomes possible to walk through some parts of the waterfall. However, during the rest of the year Victoria Falls is a roaring machine that strikes anyone with its power
• Avoid April when the water levels are at their highest. The spray from the Falls does not make for good viewing!
• When the Falls are at it's lowest levels, the best viewing is from Victoria Falls in the Zimbabwean
• When combing with a safari in either Botswana or Zimbabwe, the best game viewing experience is between June to October, although other months are just as good and provide better value for money. Please click through to our Botswana Page for more travel info.
• Credit Cards are accepted at hotels and major towns, but we highly recommend that you pre-book all activities prior to departure.
• When in Zambia, any local purchases must be paid for in Zambian Kwacha. The local currency can only be obtained in Zambia
• Health – Visitors need no special precautions for their stay, except anti-malarial treatments. It is highly recommended that you discuss your travel plans with your local GP
• Good Travel and Medical Insurance cover is vital
What to Bring:
• Valid passports with no less than six months validity and two blank pages
• A visa is required for UK passport holders and can be obtained at Port of Entry i.e. Livingstone Airport and Victoria Falls Airport
• Visas can only be paid for in US$ cash. It is essential to acquire US$ cash before departing as there is often a shortage of US$ cash on arrival at the airport
• Families travelling to Victoria Falls and/or transiting through South Africa with children under the age of 18 or not with both parents are required to produce documentation on arrival. Please discuss with us
• Electricity is supplied at 220/240v. Both square and round wall plugs are used Adaptors for your electrical devises i.e. mobiles and cameras are necessary
• T-shirts and shorts / Blouses with long sleeves (even in summer, they will protect you from the sun and from mosquitoes)
• Safari trousers or jeans for evenings
• Fleece or sweater and a warm jacket
• Comfortable walking shoes
• Sun block, lip balm, sunglasses, hat and insect repellent
• Binoculars / Camera (extra memory card & battery for avid photographers)
• Light, compact raincoat
• Swimsuit
• Layers of clothing are most practical for the fluctuating day/night temperatures of Botswana. Dull and/or neutral colours are more suitable for safari; white is not practical. It is best to pack hardy, durable clothing
• All properties provide mosquito repellent creams
Julie Cooke
16:07 17 May 22
Cape Tours gives you a quality, personal service with the benefit of excellent South African local knowledge and experience. We have used them for many years and have had wonderful holidays every time. We would not hesitate to recommend them to anybody.
GG
10:03 17 May 22
We have recently returned from a great family holiday in the Western Cape. This was originally booked in March 2020, just as the UK went into lockdown. It was then rescheduled three times until we were finally able to travel in March this year. We really appreciated the work that Mike at Cape Tours

did on our behalf rescheduling our itinerary and flights so many times !From the outset Mike listened to our preferences and ideas about what we wanted to do and helped us to put together the best itinerary, accommodation and flights for us. Mike's experience and detailed knowledge were invaluable in this context.If you are thinking about a trip to South Africa then Cape Tours is just the sort of company I would recommend combining a detailed local knowledge with a genuine commitment to personal service.

read more
Keith Green
16:53 06 May 22
I cannot recommend this company highly enough. Taylor made holidays with the assurance of help just a phone call away. I have just returned from an excellent trip to South Africa all seamlessly arranged by Cape Tours. I think this was my trip number 17 with them, and the number speaks for itself.

Book with confidence and enjoy!

read more
Faye Thornton
15:28 04 May 22
We had a fantastic experience, Mike at Cape Tours was so helpful and understanding, keeping us up to date with changes to government policies. The safari and lodge were fantastic, a once in a lifetime experience!
Moon Bather (Moonbather)
12:29 04 Aug 21
We had booked a holiday with Mike as we had tickets to the Lions tour and were impressed with his knowledge and ability to source good accommodation in safe areas in the the places we were due to visit. Lions tour tickets cancelled and South Africa still a 'Red country', Mike refunded our money

the day after we were due to travel. Excellent communication both during booking process and throughout refund process too, we are so sad we couldn't travel but next time we are looking for a trip to South Africa Mike will be our first point of call!

read more
Derek Newton
17:02 22 Nov 19
Once again we had a brilliant trip to South Africa, the 3rd thanks to the organisation of Mike of Cape Tours. Previously we have had 2 enjoyable and different trips along the Garden route, but this time opted for the KwaZulu-Natal region. BA now have flights direct to Durban so it made the journey

easier.Doing a self-drive trip we first went up the Indian Ocean coast staying in St Lucia Estuary and the Mkuze Elephant coast (Ghost Mountain Hotel). From there we travelled inland towards the Drakensberg mountains but not before calling in en-route for the obligatory safari. This was at the Nabiti Conservancy (Lions Valley Lodge) near Ladysmith. It was the best safari yet, wonderful lodge, staff and rangers, and of course plenty of wild animal sightings both large and small.After that we travelled to Clarens a town north of Lesotho. Lovely countryside, unfortunately we visited a bar in town to watch the Rugby World Cup final, needless to say were surrounded by South Africans!!! A bit of friendly banter came our way??Heading south within the mountain range we headed for the Mooi River region where we enjoyed a gastronomic's delight stay at Cleopatra Mountain Farmhouse, not good for the figure. Finally we visited Moorcroft Manor in Himeville, our base for an exhilarating 4x4 trip up the Sani Pass to Lesotho. Sadly it was then back to Durban.Many thanks Mike for another enjoyably, happy holiday. Again you constructed and organised a wonderful 3 week trip that met our budget, expectations and accommodation. Looking forward to our next South African trip.

read more
Stuart Ferguson
16:14 12 Nov 19
We wanted to go to Madikwe to find wild dogs and asked Mike to recommend an alternative destination as well. We had been to South Africa on three previous occasions and fancied something different. Mike said he had been to Namibia earlier in the year and really enjoyed it. He devised an itinerary

around the southern loop taking in the Kalahari, Fish River Canyon, the Namib Dessert, Luderitz, Sossusvlei and Windhoek. We did not appreciate the vastness of the country and driving distances beforehand and were blown away by the beauty and isolation. Everywhere we visited, the people, the food and accomodation were excellent. We will definitely be back to visit the northern circuit. Thank you Cape Tours for a fantastic holiday.

read more
Mike Bealing
10:05 07 Aug 19
Our first trip to South Africa with Cape Tours was the first time we've ever returned home from a holiday and immediately booked to go back. Now 6 weeks away from our second trip, we are beside ourselves with excitement. Mike and Brian are simply quite excellent at what they do. I would recommend

them to anyone.

read more
Ben Harris
11:23 08 Jun 19
Cape Tours were recommended to me by my parents. They had enjoyed a wonderful trip to South Africa - but that's another story.I approached Cape Tours when planning a safari holiday to Tanzania. I explained to Mike the kind of holiday I had in mind, and he did the rest...My wife and I had an

amazing holiday. We explored the best National Parks in Tanzania, saw amazing wildlife (including all of the 'Big 5'), and stayed in excellent lodge accommodation with great food and friendly staff.Mike arranged the flights, the accommodation, the safari and all the travel in between. All we had to do was get the airport!I would thorough recommend a safari holiday in Africa. And if you are considering one, be sure to enquire with Cape Tours!

read more
Steve H
18:34 24 Apr 19
Brilliant! We were recommended to use Mike and Brian for our first trip to South Africa and are so glad we did. They guided us about what to see and how to structure the trip, then booked the whole thing. The standard of the accommodation, and the service at each hotel/guest house, was exceptional.

They gave us plenty of tips on what to see and how to manage time in each location.Communication was clear and timely and frankly, I can't fault anything they did. We will most definitely use Cape Tours again and will be delighted to recommend them to friends and family. Thank you for a wonderful trip!

read more
Tammy Murphy
13:31 24 Apr 19
A wonderful trip - Having Cape Tours book and plan the trip to our specification made it so enjoyable and stress free. I will definitely recommend them to friends and family as they were recommended to us.
Gary Rogerson
18:42 10 Apr 19
Mike and his team have organised holidays to South Africa for my wife and I for the last 8 years and that says it all.Cape tours have the South Africa expertise to guide you to most wonderful places in this amazing country with prices to suit you budget.The accommodation portfolio and knowledge of

South Africa guides you with detailed itineraries and maps that are simply mouthwatering .At every point of your holiday the journey has been efficiently organised and on arrival each hotel ,lodge or b n b are expecting you and prepared to make your stay memorable .We have always been able to relax and enjoy our holidays because the organisation has efficiently completed by Cape Tours.This year we completed a 2 centre holiday to S.A.and Namibia and had the most amazing trip and adventures .Namibia was new for us but again trusting Cape Tours we had accommodation,service ,quality beyond our expectations and memories of "Real Africa".Thanks again to the team for a great holidayGary and Sharon Rogerson

read more
Allmac06
14:09 02 Apr 19
"Best Trip Ever" All Down To Mike Thomkins @ Cape ToursI should also say that we loved everything about this 1st trip to SA; from the time we arrived at Port Elizabeth and we we're given a car upgrade to a Mercedes C 180, nice! Right through until we arrived at the car hire return at Cape

Town Airport where a porter took our cases from the car, trolled them, chatting all the way, right to the BA departure desks; truly unbelievable. It was said to us that possibly we would find the best rooms with the best beds, which was certainly true; I think all the beds we slept in were foam type mattresses, which we've never had anywhere we've been, and suited us really well as sometimes my wife suffers from back problems. The standard of cleanliness of the actually places were absolutely 1st class, and some of the fixtures and fittings; well, were just amazing. This was particularly true of Cinnamon in Wilderness; at Rosenhof they even washed the car in the morning!!! Again we also found all the restaurants visited (and of course the wine!) of a higher standard than in the UK with the added advantage of being by far much cheaper. We came to the conclusion that we were eating and drinking for about half of what we have to pay for here, and served by cheerful, enthusiastic people. We in particular was just overcome with the friendliness of the people, something we miss being from Scotland living in the South East of England. Truly there was not one thing in our whole trip we could complain about, nothing! Not even when we had power sharing, it just amazed us how well everyone coped and just got on with it!Thank you Cape Tours

read more
PETER BAIRD
09:37 12 Mar 19
My wife and I have just completed our 4th, self drive, tour of South Africa in the last 6 years organised by Mike Tomkins. This says a lot about Cape Tours and Mike in particular.
Ben Warren
21:42 08 Nov 18
Cape Tours arranged our honeymoon to South Africa and Mauritius. Right from the start they came up with a great itinerary with flexibility on timings and put together a great package for us. The accommodation was all excellent and we had a fantastic time every day for the two weeks we were away.

Would highly recommend and we will be coming back for future holidays to Africa!

read more
Jeff Morgans
17:28 14 Oct 18
I cannot recommend Cape Tours highly enough. We have now had two holidays in South Africa and Mike has made all the arrangements for us. Both times he has given us advice to iterate to an itinerary which suits us and then he has made all of the arrangements. All of the hotels have been fantastic

- and somehow Mike has managed to get us some of the best rooms within the hotels. I also appreciate the advice we get on what to do and where to visit during our holidays. And all at a very competitive price.This year we started with a safari in Kichaka Game Reserve before travelling across Route 62 to Paternoster on the West Coast. The spring flowers around the West Cost National Park were something really special! We then travelled on to Franschhoek (just the most fabulous village in the Winelands) before finishing off in Hermanus. We will return - no doubt will the help and advice of Cape Tours...

read more
Kate Bancroft
16:57 28 Sep 18
Thank you Cape Tours ?Our 4th trip with you guys and you never fail to deliver. Namibia was fantastic, it exceeded all our expectations. The accommodation you picked for us was great (Little Ongava.... my goodness, what a treat), the scenery spectacular, and the locals incredibly friendly.

It's the best wildlife viewing I've ever had and the guides were all brilliant and we will never forget the Dunes, magical and so very different to anywhere we've travelled before. We will definitely go back, loved every minute.Thank you and let's get booking for 2019/20 ?Kate and Paul

read more
David Mitchell
11:03 29 Jul 18
I started travelling with Mike and Cape Tours to Africa in 2015 and since then my family and I have visited on four occasions and I am just planning a fifth for 2018. On reflection and in hindsight, we left visiting Africa 15 years too late! I originally spoke to Mike by chance making an inquiry to

visit South Africa because I couldn't make the logistics work for a return trip to Canada that I was already in the process of planning. My family and I were always historically nervous about visiting Africa due to a perception that personal safety was still an issue; we couldn't have been any further from the truth! Our first trip included a safari at Shamwari Game Reserve followed by a tour of the Garden Route down to Cape Town stopping off at Plettenberg Bay, Wilderness, Oudtshoorn and Hermanus. This is a truly beautiful area of South Africa delivering a memorable experience with some fantastic boutique hotels such as Tsala Treetop Lodge. In fact, we found our #1 boutique hotel in Hermanus, Birkenhead House, which is the only hotel we've travelled several hundred miles out of our way to re-visit on our return to Africa when we visited a second time to Victoria Falls in Zimbabwe, Mpumalanga (Hazeyview), Kruger National Park (Lion Plains at Sabi Sands and Motswari at Timbavati Game Reserve) ending back in Hermanus. We should have flow straight from Johannesburg to London but instead went down to Cape Town for three nights because this hotel simply is the best! Our last safari with Cape Tours was a six-night visit to Moremi Games Reserve and Savute Game Reserve (shown on the Nat Geo documentary "Savage Kingdom") in Botswania. Mike gave us the courage and confidence to travel Africa and we've never looked back. We have also been to Rwanda to see the Gorillas and Tanzania and Zanzibar but with another operator; the only reason being that I had a credit balance with them that I needed to use from a previously cancelled holiday. But again, it was Mike's motivation that made this happen - each time we travel to Africa we are getting bolder. Mike is currently working on a nine-day safari to Tanzania where we are considering a re-visit to Tarangire Game Reserve plus Namiri Plains and Selous. From the outset, Mike and Cape Tours have worked closely with me to match budget against requirements. I can be a right pain in getting Mike to consider lots of tailor-made options to amend base itineraries Cape Tours plans and Mike is always helpful, informative and flexible. I have found Cape Tours to be extremely competitive against the larger tour operators and in so far as they can continue to achieve price-competitiveness Cape Tours will always be my first port of call. Their level of service is second to none and, more importantly, the intimacy delivered through a smaller more personable operator builds confidence, trust and loyalty. The quality of all trips we have travelled is second to none, as can be evidenced through the photos attached to this review. In the short term, I have no inclination or motivation to stop visiting Africa and will continue to use Mike and Cape Tours as my preferred tour partner. I am so confident in their ability that at every opportunity I reference Cape Tours, and Mike specifically, as the `go-to' operator for both newbies and experienced travellers of Africa. Accommodation, arrangements, reserves and all associated arrangements are always clearly thought through and planned with excellent literature and guides to ensure you always stay on the right track. This level of hand-holding is well received when you first start to travel a continent that can be otherwise daunting to navigate. We look forward to my next trip with Cape Tours in summer 2018 if not before.

read more
Kevin Robson
07:39 08 Jun 18
Once again, Mike and his team at Cape Tours came through with seamless arrangements and bookings relating to our recent three centre holiday in South Africa. I needed to undertake business in Jo'burg initially and follow this up with a holiday to celebrate our silver wedding anniversary. We flew

from Newcastle to Amsterdam to Jo'burg and were transferred to the Michelangelo Hotel in Sandton. A car was delivered to the hotel a few days later as arranged and we drove to Nelspruit to stay at the Loerie's Call Guest house. This is an excellent five star boutique hotel with fantastic service, superb rooms and a great restaurant (Try the Warthog - it is nothing like pork and you will never want to eat steak again after trying it). From there we drove through the Kruger Park and stayed at our selected camp for eight nights prior to returning to Sandton (same hotel) for two nights before our transfers picked us up to take us back to the airport for the return flights. Everything was fantastic throughout. This was about the fourth time we have used Cape Tours to visit South Africa and I can wholeheartedly recommend them either for a package that they have prepared or a bespoke holiday where the Client specifies the requirements. Great service, excellent arrangements, full support if required, quality accommodation, good prices and friendly advice when required. Use them. I won't go anywhere else when booking to go to Southern Africa.

read more
Gary Rogerson
16:43 11 Apr 18
This was our 10th visit to South Africa organised by Mike and his team and each time we have had the most amazing holiday with faultless organisation and planning of our trip.Thanks again to Mike,we will be booking again very soonGary and Sharon Rogerson
Nikki Mott
16:50 02 Nov 17
Booked with Cape Tours for a trip to South Africa and Mauritius. They couldn't have been more helpful. They were helpful in recommending suitable hotels for our needs and budget and we had a great experience, both on Safari at Kruger National Park and in Cape Town, which I absolutely loved. All

the transfers and hotel bookings were managed very smoothly and I would definitely use them again if we're lucky enough to travel back to South Africa.

read more
Dianne Baxendine
17:54 30 Oct 17
I have previously been on South African trips organised by Cape Tours and wanted to go again with my two 17 year old nieces. As always Mike and the team tailored the trip perfectly to our needs. Our 4 day stay at Cape Town was at the Waterfront apartments which was perfect for all we wanted to do

and felt very safe for the girls to have a bit of independence too. We stayed for 3 days at Ashbourne Country Escape near the Kruger Park. Mike had advised we could book a game drive while there and indeed we could with a great guide and a very acceptable price - arranged by the staff at Ashbourne. We loved the individual cottages and suites and the girls said it was the nicest place they had ever stayed! The car hire was very smooth and we got great advice on the best flights for us and it all fitted extremely well with our budget.I would not hesitate to recommend Cape Tours for anyone planning a South African holiday -whatever your desired itinerary they will advise you really well to the last detail Thank you so much all at Cape Tours

read more
sara yearley
18:19 16 Oct 17
First time in South Africa and loved it! Cape Tours planned everything perfectly. If I could change one thing we would have liked one more night at the safari lodge and one less in The Protea, Knysna.
vanessa watts
20:22 23 Jul 17
July 2017.We have just returned from our first trip to South Africa and it was fabulous. We don't usually book our holidays through a tour operator but since this was our first trip to South Africa we decided we needed some 'professional' advice. After many hours trawling through various travel

websites we chose Cape tours as they seemed experienced and offered a very 'bespoke' service. We were not disappointed. Mike and Brian were very knowledgeable and it was all about what we wanted to experience at our budget. We are a family of 6 so our budget was quite tight but they were very patient and flexible with our needs and were happy to offer more choices when we couldn't make up our minds. There was none of that 'pushy' selling at all and it was all about the best they could achieve for us within our budget without compromising too much on the quality. We finally settled on Cape town and the garden route with a 2 night safari. What a trip!We have stayed in the best accommodation we have ever had at truly remarkable prices. The only regret is we couldn't stay longer.The Gondwana safari was absolutely perfect -stay near the main lodge/restaurant if your budget allows as this saves a lot of time for meals when you get there as some of the lodges are a 20 minute drive away. And if you want to have a spa treatment , book before you go. The Views hotel in Wilderness is the best boutique hotel I have ever stayed in and a real treat . The views of the sea, sunrise and sunset from the sea-facing room were definitely worth the extra cost.There is such a lot to do there, we barely had time to relax but have come home enriched with memories and planning to go back again in the future. Thank you Cape tours!

read more
John Teasdale
19:33 19 Jul 17
Our first trip to South Africa was really a compromise because we were "iffy" about a trip to New Zealand in 2011! Four trips later, all to different regions, and one further one, just finalised, to Namibia next year (2018), all with Cape Tours and we have absolutely no regrets. Our last trip in

Autumn 2015 included the wonderful West Coast, the dramatic Cederberg and the unforgettable Gansbaai. In fact we are totally sold on Southern Africa and the variety of experiences and landscape it has to offer. In no small part we are certain this is due to the wonderful planning and sensitive support we have received from Mike and his team at Cape Tours. Each trip has created a wonderful memory, largely because Mike has teased out exactly what we were looking for from each holiday. He has then trawled his vast pool of knowledge both in terms of activities and accommodation in order to create something very special at a keenly competitive price for the budget and quality agreed. At all times we have really felt the team has had our best interests at heart. We can't speak too highly of them.Sue & John T.

read more
Catherine Lister
09:28 11 Jul 17
We have enjoyed 5 tremendously exciting and enjoyable holidays to South Africa and look forward eagerly to our next visit in the near future. The astonishing variety of experiences on offer in such a diverse and vibrant country is an obvious draw but why go for a sixth visit? Quite simply it is the

exceptional service we have received from Mike and his team at Cape Tours. We deliberately chose a smaller company with an intimate knowledge of South Africa and were immediately delighted by the professional, courteous and reliable responses we have received in all our communications. We will probably be perceived as 'demanding clients' in that we have consistently subjected Mike to a barrage of questions and requests for advice, all of which have been handled calmly, sensitively and successfully. The result has been a range of astonishingly stimulating experiences, absolutely first class accommodation options, stays in less familiar but utterly fascinating locations and an astute balance between rest and activity. Mike's personal knowledge and recommendations have extended to restaurant recommendations, lists of 'must do's', detailed and meticulous knowledge of the various accommodation options in specific areas and even overcoming our perennial holiday headache of reliable car hire. All this at remarkably competitive prices for such a high quality overall product. We would not hesitate to recommend Mike and Cape Tours to prospective visitors to South Africa and quite honestly to provide some highlights would simply undermine the totality of our experience. We have enjoyed everywhere, everything and to a remarkable extent, everybody we have met. Many thanks to Mike and the team.Malcolm and Cath Lister

read more
Kelly Crawford
13:25 05 Jul 17
I cannot recommend Cape Tours enough. Brian and Mike have been so helpful in planning our honeymoon in South Africa. We did several tweaks to tailor it to our budget and time constraints and the end result could not have been more perfect. We had multi cities including a car rental and internal

flights. The logistics were thoughtful and considered so that we never felt stressed. The chosen accommodation was gorgeous in every location. They even provided us with directions, tips and recommendations. Every detail was thought out and as we were so busy planning a wedding, this was hugely helpful. This is the first time I've used a tour operator and I'm so happy we did!! Thank you!!

read more
Keith Green
18:05 28 Jun 17
As I frequent traveller to Southern Africa I would not take a trip without the backing of Cape Tours. This is a completely reliable and trustworthy travel company who have never let me down. They only book quality accommodation, reliable hire cars and reputable airlines. They are completely

flexible, allowing you to arrange a trip to your exact requirements. Then, whilst on holiday, local help is only a phone call away. I cannot recommend Cape Tours highly enough.

read more
Alastair Wainwright
16:12 23 Jul 15
Cape Tours organised our honeymoon which included a week in Cape Town, a week on safari at a private game reserve near the Kruger and a week in Mauritius.Mike and Brian completely understood what we were looking for in our trip and delivered perfectly! The choice of hotels was excellent as was

their advice and tips.Most importantly, we put the same itinerary to several travel agents and Cape Tours were the cheapest by around £1500!

read more
Lesley Breckenridge
09:02 03 May 15
I wanted to thank you for all your help with arranging our holiday. It turned out to be perfect. We had a brilliant time, but unfortunately the big fish eluded us 🙁 Everything went to plan & all the drivers were brilliant, the hotels were superb and we can highly recommend them if you were

thinking of sending anyone there. We were so thrilled with all of the holiday and would most definitely recommend your services to anyone who was thinking of going on a holiday like ours. Thank you for a brilliant time 🙂

read more
Debbie Green
19:55 28 Apr 15
This is the tenth year we have booked trips to Southern Africa with Cape Tours. They offer a comprehensive service allowing their clients to select flights, arrange car hire (with prepared routes if wanted) and arrange accommodation to suit your individual tastes. Their website is clear and

informative, but if you have specific requests, Mike and his team will endeavour to fulfil these for you in a friendly and timely manner. On the one occasion we had a minor difficulty with our hire car, their SA office was only a phone call away and everything was sorted quickly and efficiently.

read more
Sheelagh Walker
15:25 28 Apr 15
We booked a tour in November 2010 and Cape Tours set us up with a wonderful two weeks in South Africa. We loved Kruger and all the other stops we requested, and finally ending at the Waterfront in Capetown where we had an absolute ball! Cape Tours listened to our brief and delivered the holiday

of a lifetime. Wouldn't hesitate to recommend them.Thanks Mike!

read more
Angela Jarvis
11:29 28 Apr 15
We used Cape Tours for our Honeymoon in 2012. The whole experience was fantastic, the hotels and Safari accommodation were amazing and made our Honeymoon the memorable experience we wanted it to be. The bespoke package was completely tailored to us and I love the fact that they let us pick the

airline for the long haul so we could qualify for air miles!I would definitely recommend them as they took all of the stress out of organising the trip and it was excellent value for money. One of our internal flights got pulled late on but they quickly arranged an alternative and sent a credit for the added cost to our Hotel in Cape Town.South Africa is a wonderful country, one I look forward to visiting again and I wouldn't even consider using any other firm to book my trip. So what are waiting for, go ahead and book it!Thanks

read more
Next Reviews
Write a review
Explore Our Most Popular
Victoria Falls Holiday Ideas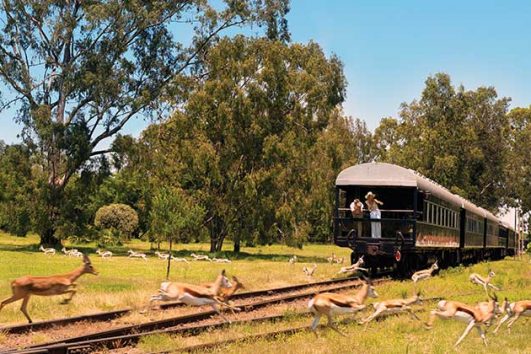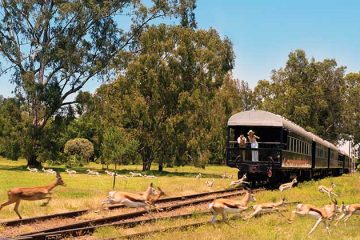 10-Night holiday: Includes Rovos Rail; helicopter flight over the Victoria Falls; Sunset Cruise on the Zambezi; Guided Tour of Victoria
8-Night holiday: Including the Okavango Delta; Moremi Game Reserve; Chobe National Park; and Victoria Falls.
8-Night holiday: Including options to visit the Okavango Delta; Moremi Game Reserve; Chobe National Park; Savute Region; the Makgadikgadi Pans